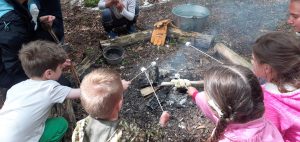 This summer saw things get even wilder here in the Cranborne Chase with the Chase and Chalke Landscape Partnership Scheme's 'Wild Week'; a series of nature and heritage-based events celebrating the area's wild heritage. Running from 26th – 30th July, these exciting sessions took place in locations across the whole of the Cranborne Chase AONB and aimed to not just showcase the wild beauty of the Chase's landscape, but to inspire people to engage with it in a hands-on way.
Working with partner organisations such as the National Trust, Hampshire County Council and Wiltshire Wildlife Trust, activities such as forest schools, bat walks, creative wildflower collages and bee-themed games were just some of the activities put on for people to come and try for free. All of these hoped to encourage new ways of looking at this ancient landscape.
Some families found themselves discovering locations for the first time. Others unearthed a fresh take on a familiar area by learning more about its wild creatures and rich heritage.
The week proved to be incredibly successful with events fully booked, and plenty of smiling faces eager to share stories of their discoveries and wild creations.
One particularly popular event was the Bumblebee Day at the Martin Down National Nature Reserve. It was a day dedicated to looking more closely at the lives of these important pollinators, and with its plentiful wildflowers Martin Down was the perfect location. Despite somewhat blustery conditions, plenty of different bee species were identified, and colourful games were played to explore their life cycle and pollination processes.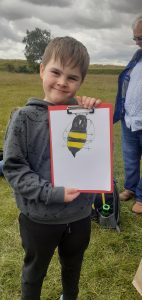 Mike Fussell, Countryside Ranger for Hampshire County Council, working in partnership with Chase and Chalke Landscape Partnership to deliver the Greater Grazing Project on Martin Down, led the games and bee handling sessions.
These close encounters with the stars of the day themselves, were for many of the children (and some adults) the first time they got to experience not just how fuzzy a bee feels to touch, but also that some have a certain smell too!
All these encounters inspired creativity and resulted in some amazing pieces of artwork in sessions led by Charlotte Moreton, Chase and Chalke's Heritage and Community Engagement Officer.
Strewn among the harebells and knapweeds, to a soundtrack of skylark song, children drew pictures of the bees and flowers they'd found, as well as collecting wildflower petals to create colourful collages.
The grassland was alive with all sorts of life that day, and it was a joy to see so many young people creating connections with nature. One mum explained how delighted she was at the range of activities and how when they visited the reserve next time, they would know what to look out for.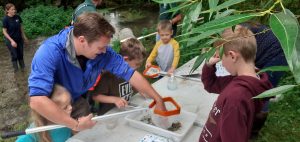 Even when the weather turned wilder towards the end of the week, and the sunny spells were broken up by squally showers, people still showed up for other events such as Wild Family Fun at Coombe Bissett Down.
Visitors were greeted by the impressive flapping silk flags depicting scenes from the area, and an indication of just how windy the conditions were.
With lots of activities on offer such as colouring sheets, wildflower walks, and a 'find the word animal trail' families headed out onto the reserve and once again immersed themselves in nature; proving that Cranborne Chase is always fun, whatever the weather.
It's this engagement that was such an important factor of the Chase and Chalke Wild Week; highlighting the accessibility of the landscape and offering up ideas of how to experience it in respectful and inspiring ways.
That one week in July highlighted the wildness of the Cranborne Chase and has hopefully inspired a host of new intrepid explorers to seek out more its wild heritage.
With thanks to our Chase and Chalke Partners: 
National Lottery Heritage Fund
Hampshire County Council 
Wessex Rivers Trust
Wiltshire Wildlife Trust
Blandford Town Museum
Rushmore Estate
Natural England
National Trust