'Edible Ebble'
June – September 2023
Cherry Truluck is an artist and researcher, who tends towards edible and collaborative work. Her work explores the possibilities of food and farming as an artistic practice. Cherry works with communities to seek out the rhythms that food creates between people and the land.
Between June and September 2023 Cherry will be delivering a series of interactive food experiences at different locations along the River Ebble. Participants are invited to join the artist on the banks of the river Ebble with her purpose built mobile kitchen. Workshops will include activities around making food with ingredients that aims to connect people with the landscape, ecology, and seasonality of the chalk stream environment.
Community sourced recipes, food stories, and ideas from the workshops are captured in a series of risograph prints, to be combined in a limited edition artist book.
Edible Ebble workshops will take place in locations along the number 29 bus route, which follows the course of the river Ebble.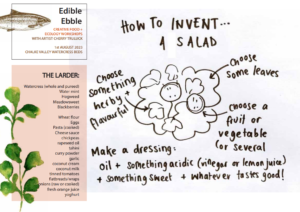 To learn more about Cherry Trulucks works, you can find her at https://www.cherrytruluck.co.uk/
Follow Cherry's journey on social media:
On twitter @CherryTruluck
On Instagram: @CherryTruluck