Cranborne Chase holds many clues to the past and is rich in archaeology. This was the place where Augustus Pitt Rivers, known as the father of modern archaeology, carried our many excavations across the Rushmore Estate. The Chase and Chalke Landscape Partnership area is famous for the mysterious Dorset Cursus, Woodcutts and Roman roads, but many secrets remain to be uncovered.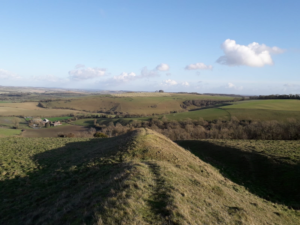 One Chase & Chalke project, Champions of the Past, aims to better understand this unique heritage. Funded by the National Lottery Heritage Fund, we're now undertaking a LiDAR survey of the whole Landscape Partnership area.
LiDAR stands for Light Detection and Ranging. Rather like radar, an aeroplane surveys the area and the technology creates a map revealing the hidden lumps and bumps which indicate sites of interest which would not otherwise be detectable, especially in wooded areas.
This will give us a much fuller understanding of the archaeology beneath our feet, and allow us to involve communities further in the investigation and care of these sites. We're really looking forward to seeing the results and sharing them with you.
Get involved
We're looking for volunteers to be trained to help us to explore our findings more thoroughly, developing skills in heritage and archaeology. To find out more, contact the Chase & Chalke team by email.