Become a Champion of the Past – Join a Journey of Discovery
Champions of the Past is our major archaeological project. The Chase & Chalke area is a landscape rich in archaeological heritage, famous to many because of its association with Pitt Rivers, who is credited as being one of the earliest amateur archaeologists to innovate and add a more scientific approach to archaeological investigations.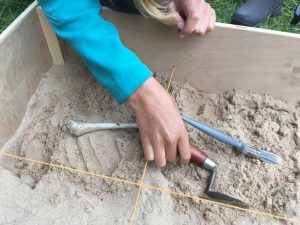 There are many archaeological sites across our area, from the enigmatic Neolithic Dorset Cursus to the many Bronze Age burial mounds, Iron age settlements and Roman roads, but still hundreds of sites remain unknown.
This project aims to provide many opportunities for people to learn more about the archaeology beneath our feet, exploring the landscape and learning a whole range of archaeological techniques. Our goal is to train and support new archaeological investigators to help us identify, explore, interpret and investigate this historic landscape through our new Chase & Chalke LiDAR portal, analysing old maps, aerial photography analysis, finding and recording new archaeological sites, geophysical survey and small-scale excavations. If you have an interest in the past this is the project for you.
Chase & Chalke LiDAR Portal
Later in 2022 we'll be launching our new Chase & Chalke LiDAR portal. LiDAR stands for Light Detection and Ranging and the technique uses laser scanners mounted to light aircraft to send thousands of pulses to the ground to record and measure the height of the ground surface with a very high resolution and accuracy. Even the smallest of height differences, otherwise unseen 'humps and bumps', are recorded resulting in a very detailed map of the ground surface in incredible detail.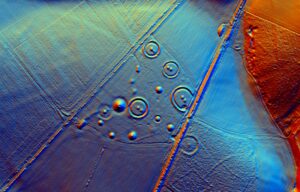 Using the new Portal volunteers will be able to navigate the area, zoom in and help us discover new archaeological sites. Volunteers will receive free specialist training in how to recognise and interpret archaeological features on LiDAR images to help us digitally record unmapped archaeology. The Portal will also host historic maps, aerial photographs and information on known archaeological records and will give everyone the opportunity to explore the archaeological wonder of this amazing landscape.
On-site Surveys
Once new sites have been identified on the Portal our volunteers will carry out systematic, on-site surveys to find and record these new features on the ground. Working with local archaeological societies, local museums and our experts, our volunteers will be trained in 'ground-truthing' survey techniques to record hundreds of newly identified sites, which will include filling in a pre-prepared survey, taking photographs and making sketches of the site.
Geophysical survey & excavation
Where possible more targeted archaeological investigation of key sites will be carried out. Working with farmers and landowners our aim is to provide training in earthwork surveys, geophysical surveys and field walking to explore several sites of interest in more depth, potentially leading to small-scale excavations in key areas.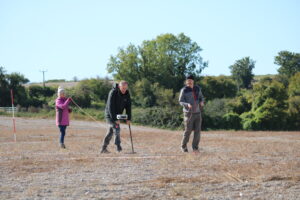 Archaeology at Risk
Many monuments and known sites in our area are at risk of damage through neglect and farming practices. Working with farmers and landowners we aim to carry out practical conservation work to sites to improve their condition and help protect them for the future. Our volunteers will carry out tasks such as light clearance of scrub and fencing off neglected monuments while working with communities and landowners to develop better knowledge, appreciation and pride in the special features of their landscape.
Become a Champion of the Past, today
Free training, unique volunteering opportunities, incredible experience, in an amazing landscape with wonderful people. What's not to love? We need new archaeology champions of the area to ihelp us identify, record, interpret and understand the unique archaeological heritage of the Chase & Chalke area. Join us today.
Over the coming weeks we'll be adding training and volunteering opportunities to the Chase & Chalke Volunteer Hub. To keep up to date on how you can become a Champion of the Past, and to find out more about all of our free training and volunteering opportunities, click here