So many poets and writers are inspired by their surroundings to weave words into bejewelled tapestries that transport us and help us further a connection to our local landscape and heritage.
---
Words that Connect us to the Landscape
Thomas Hardy's 'This is the Weather the Cuckoo Likes' and Thomas Gray's 'Elegy Written in a Country Churchyard' are long-familiar to many of us as serene reflections.
While Julia Donaldson stirs us to a different take on our walk in the woods with 'The Gruffalo', John Betjeman warns us to drive with care on the A30, and Carol Ann Duffy's 'The White Horses' revels in the history and liveliness of the chalk figures of our downland landscapes.
---
WH Hudson
William Henry Hudson was an Anglo-Argentine author, naturalist and ornithologist born in 1841.
WH Hudson achieved fame with his books on the English countryside, including Hampshire Days, Afoot in England, and A Shepherd's Life published in 1910 which was set in Wiltshire. These very much contributed to the 'back-to-nature' movement of the 1920s and 1930s. The opening chapter of A Shepherd's Life is set in Salisbury, and much of the story is set in the fictional village 'Winterbourne Bishop' which is based on Martin.
He was a founder member of the RSPB and led a fascinating life.
You can read all about the life of WH Hudson in a fantastic article written by Cranborne Chase resident Jasper Humphreys, written to celebrate the centenary of the author's death.
---
Sir Terry Pratchett
Sir Terence David John Pratchett OBE was an English humourist, satirist, and author of fantasy novels, especially comical works.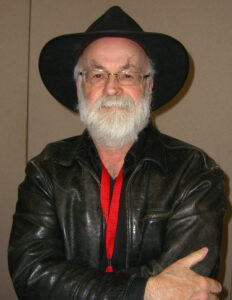 Terry Pratchett was the UKs top selling author of the 1990s, and sold over 85 million books worldwide, published in 37 languages. Pratchett was most celebrated for his 'Discworld' series of 41 novels, set in a fictional world which often feature parodies and references of classical fiction, mythology, and real world themes.
In 1993 Pratchett and his family moved to the village of Broad Chalke, where he lived for the rest of his life.
The chalk downlands of Cranborne Chase are reflected in some of Pratchett's later works as a landscape he calls 'The Chalk' where the protagonist for a number of his works originates from. These books were published from 2003 – 2015 and include The Wee Free Men,  A Hat Full of Sky,  Wintersmith,  I Shall Wear Midnight, and his final novel, The Shephards Crown. This was published in 2015, which was the year of Pratchett's death from Alzheimer's, and takes place fully in landscape he called 'The Chalk'.
This fictional landscape bears a great resemblance to the downlands of southern Wiltshire, where 'The land is named after the chalky stone that it sits upon' and 'the bones of the hills are made of flint'. The description of the landscape in his books reference real world landscape and cultural features of Cranborne Chase such as Ox Droves, the dominance of sheep farming on thin topsoil, and the main centres of travel and habitation being towns that 'sit only on the borders of the Chalk' and serve as points for entry and exit, reflecting the geography of Salisbury and Blandford Forum in relation to Cranborne Chase.
---
Poetry Resources and Inspiration
A few personal arch-favourites are listed below; perhaps our current enforced slower pace of life gives room to delve into a few such riches, and to "Wander lonely as a cloud" (thanks, Wordsworth!). If you have more suggestions, let us know!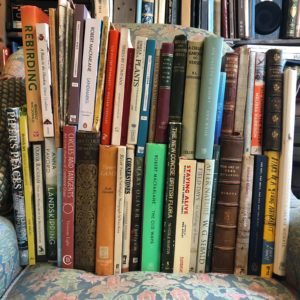 Robert MacFarlane – many acutely observed books of lyrical prose about British wildlife, landscapes and history.  And don't miss his Lost Words, created with the artist Jackie Morris, treasuring the words of our natural world that are slipping out of childrens' dictionaries – a delight for all ages!
Anna Pavord – Landskipping – about our human creative response to the landscape from our earliest known history to modern times, from a west Dorset writer.
Mary Oliver – poetry and prose – nature as a source of joy and wellbeing (USA). Try Why I Wake Early for an uplifting morning mantra to say to your cheerful dog!
Field Days – a superb anthology compiled  by the Dorset-based environmental charity, Common Ground.  The Bright Field by R.S.Thomas will strike a chord with any lover of the countryside and walking.
A Shepherd's Life – W H Hudson's wonderful and slightly eccentric glimpse into the lives of shepherds on Cranborne Chase in the early years of the twentieth century.
Nature Cure – The celebrated naturalist and writer, Richard Mabey, on his recovery from depression through a reconnection with nature.
Tom Cox – Funny but profound reflections on landscape and nature pepper his writing. Try 21st Century Yokel or Ring the Hill.
Edward Thomas – the great poet, whose life was tragically cut short at the Battle of Arras, brilliantly summons up English landscapes, in poetry and prose.
Wiltshire – Edith Olivier, resident of Wilton, writer, patron and leading light of the Wiltshire artistic scene, published this charming survey of the history and culture of her home county.