This year, Broad Chalke in Wiltshire again played host to the annual Chalke Valley History Festival, returning to the area after last year's hiatus due to the Covid-19 lockdowns from 23rd June to 27th June 2021.
The Festival had social distancing guidelines in place, with mask wearing inside larger tents, and limited ticket numbers. Saturday the 26th June the Festival was at capacity with all tickets sold out.
The Cranborne Chase AONB team were in attendance for the 6th time to date, holding a large tent, 2 marquees and a display of silk flags.
On display were a freshly created set of hand made silk flags, created by artist Nicola Davis who leads on our Celebration in Silk project. One of the flags on display was created by Nicola and the children at Coombe Bissett Primary School.
The marquees were host to different hands on activities for families to interact with. The team used Covid-19 safe measures such as sanitizing hands and equipment, as well as mask wearing inside the main tent.
Volunteers of the Blandford Museum ran our excellent and popular Sandbox Dig; an exploration of archaeology for children. Children were invited to explore the hidden depths of the sandbox to uncover real life artefacts from the Museum itself.
Volunteers taught children how archaeologists slowly uncover items in the ground using brushed and different tools.
On Sunday the 27th June, the marquees welcomed Joanna Dewfall, a Wilshire based Mosaic Artist, who
held Mosaic making workshops for families, and helped people to make mosaic drinks coasters During the Festival. The marquees also hosted Living History expert Penny Jane-Swift, who demonstrated the delicate and history rich craft of Dorset Button Making, whilst in period costume.
Visitors were invited to have a go at making a Dorset button themselves using kits that were provided.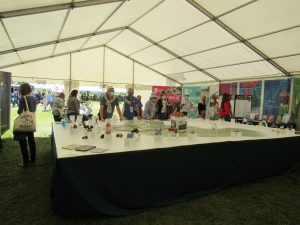 Inside the main tent, the Cranborne Chase AONB team were able to talk to visitors about the different Chase and Chalke Projects and opportunities. The displays were set up on tables for people to browse and designed to inform and entertain. Visitors were drawn to the various displays showing them how they can get involved, either with volunteer or training opportunities.
The central display featured a large map of the Cranborne Chase AONB, with displays highlighting various aspects of culture, heritage and ongoing works within the area.
Visitors to the tent were also greeted by a large display about the Chase and Chalke 'Starry, Starry Nights' project, informing people about the AONB's dark skies and our designation as a Dark Sky Reserve. The tent also showcased the new Time Traveler's App, and showed people how they can download the app and join in the fun.