Date/Time
Thu 20/05/2021 - Sun 30/05/2021
All Day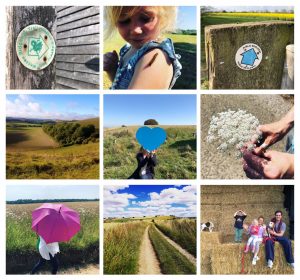 Thursday 20th to Sunday 30th May 2021
Registration for this year's ChalkEscape Walking Festival is now open.  For full details of all this year's events, including difficulty levels, please download our programme.
To book follow the link to our Eventbrite page on the programme or click on the walk/activity of your choice below.
Events are free of charge, so if you register and are then unable to attend, please do let us know (info@cranbornechase.org.uk) so that we can offer your place to someone on the waiting list.  More detailed information on each event will be sent to those registered ahead of the day.
We hope you will join us at one of this year's ChalkEscape events.
Monday 24th May, 2pm – Sketching Walk at Vernditch Chase
A gentle 2 mile walk with artist Charlotte Moreton around Vernditch Chase.  Frequent stops to sketch with a focus on observation and mindfulness, and with a few suggested exercises in drawing techniques.
Tuesday 25th May, 10am – West Woodyates Walk
A circular 8 mile walk exploring some of the area's most notable historic sites;  Bokerley Ditch, Dorset Cursus, Mistleberry Iron Age Fort and Ackling Dyke.  Plus the RSPB Reserve at Garston Wood and conservation projects in action at West Woodyates Farm.  This is a long walk, suitable for experienced, fit walkers.
Tuesday 25th May, 2pm – An Audience with The General (Larmer Tree Gardens)
Join us for a rare appearance by General Pitt Rivers at his Larmer Tree Pleasure Gardens and learn more of his live, from soldiering to archaeology. Explore the gardens yourself or, if you wish, join Head Gardener Andy Rampton for an informal tour after the performance at 3pm.
Wednesday 26th May, 9.15am – Spire Walk (start Lower Chicksgrove)
A charming 6 mile circular walk in the beautiful Nadder Valley passing through woodlands, farmland and water meadows and through three delightful villages.
Wednesday 26th May (2pm and 3pm) – Nordic Walking Taster Sessions (Win Green)
Discover more about the increasingly popular sport of Nordic Walking and have a chance to try out pole walking in the stunning setting of Win Green.
Thursday 27th May, 2pm – Broad Chalke & Fifield Bavant Walk
A circular 6½ mile walk that explores the sweeping downland of the Chalke Valley and the old Shaftesbury Ox Drove, offering stunning views and a delightful return journery through the water meadows of the River Ebble.
Friday 28th May, 10am – Wimborne St Giles Carriage Ride Walk
A unique opportunity to walk the 19th century carriage ride of Wimborne St Giles estate, passing through woodland, fields and alongside the Roman road, Ackling Dyke and Dorset Cursus. This is a long walk that will be conducted at a brisk pace, so for fit, experienced walkers only.
Saturday 29th May, 10am-4pm – Win Green Wild Family Fun Day
Meet the Chase and Chalke Landscape Partnership Team and join in the fun. There is a range of activities you and your children can get involved in. We look forward to welcoming you! 
Sunday 30th May, 10am – Sunday Stroll along the Ebble
A gentle 3 mile walk along the picturesque river Ebble in the company of our Landscape Partnership Ranger Roland Hughes.  Discover more about this important chalk stream and enjoy the valley landscapes.
—
Categories
Similar Events