'My Chase and Chalke'
We are delighted to introduce Jo Beal as our second Chase and Chalke Artist in Residence. Jo has lots of experience in community arts, making stunning creative journals inspired by nature. 
Click here to find out more about her work: https://www.jobeal.net/
Jo Beal's residency is called 'My Chase and Chalke' and it focusses on both Jo's personal experiences of Cranborne Chase, as well as that of participants who will take part in the residency workshops.
Experiences of Cranborne Chase will be reflected on and captured using accessible, creative, and drawing-based activities.
My Chase and Chalke was borne out of Jo's creative and reflective drawing practice, and the residency will enable groups and individuals to engage with the area's landscape and archaeology through various walking and visiting activities. These will include walking over grassland, through woodlands, alongside the river Ebble, visiting museums, and sites of special interest across the Chase & Chalke landscape area.
Jo's role within the residency is to help raise awareness of the Chase & Chalke area, and increase understanding of its biodiversity, its ancient and historical landscape, as well as its physical landscape.
Jo will be running a series of targeted workshops, and her approach is for them to be accessible, engaging, creative, educational, and fun. They will build confidence in participants drawing skills and open up new ways to explore and record the Chase & Chalke area.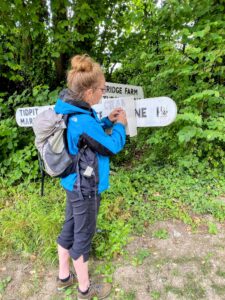 As part of the workshops, participants will make sketchbooks and journals, as well as making and using their own mark-making tools from found materials. They will walk, talk, learn, and reflect – and will be accompanied where possible by Chase & Chalke volunteers.
As part of the residency, Jo will also create new work of her own for exhibition. The new work will be informed by both the walks and learnings during community workshops, as well as by her own exploration of the landscape.
Jo will be documenting her journey through the My Chase and Chalke residency on her website. To follow her, please click here.