Join us and become a Woodland Wild Thing
Woodland Wild Things Free Forest School and Outdoor Education Sessions 
Our Woodland Wild Things Forest School and Outdoor Education Sessions offer opportunities for children to connect with nature, achieve and develop confidence through hands-on learning experiences and to become independent and creative learners in our Wonderful Woodland environment.  
Developed in partnership with the National Trust at their fantastic Forest School site at Fontmell Down near Shaftesbury.
The Woodland Wild Things Forest School is part of the Chase & Chalke Valley Landscape Partnership Scheme and aims to connect more young people to the amazing landscape of Cranborne Chase National Landscape.  
The Woodland Wild Things Forest School is part of the wider Chase & Chalke Wonderful Woodlands project. For more information on the project, click here.
The Forest School Programme
The Forest School programme comprises of six or more sessions with groups of around 12 – 15 children or young people, with sessions usually running on consecutive weeks. 
All of the sessions are completely FREE.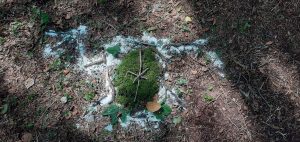 They are half-day sessions (2 1/2 hrs) from 9.30am -12pm or 12pm to 2.30pm, and can be adapted to suit all ages, abilities and interests.
Our Level 3 qualified Forest School Leaders work closely with parents and school staff to ensure all needs are met.  
As the children become more confident in the Forest School setting during the six-week programme they are encouraged to follow their own interests and all of our Forest School Leaders are trained in allowing children to learn at their own pace and to develop their own personal learning styles.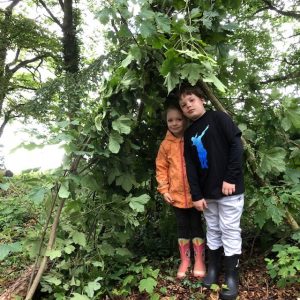 "The philosophy of our bespoke forest school and outdoor education experiences is to enhance the learning of young people by helping to develop self-confidence, resilience, awareness, communication skills, inquisitiveness, problem-solving skills, creativity and risk assessing skills.
We aim to encourage and inspire individuals through positive outdoor experiences". 
– Chase & Chalke Scheme Manager Jonathan Monteith 

Activities
The activities of each Forest School session may vary. Activities may include: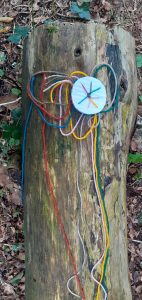 Den building

Safe fire lighting and fire management

Campfire cooking

Scavenger hunts

Woodcraft activities using simple tools and natural resources

Stories with themes of the natural world

Sculpture and art using natural materials

 
How to Get Involved
Woodland Wild Things sessions will be taking place all year round. If you would like to book sessions, all you have to do is get in touch and the team will be able to organise things with you.
To get in touch, email Roland Hughes: rolandhughes@cranbornechase.org.uk. 
Follow our social media accounts or subscribe to our newsletter to hear news regarding the Forest School.

Location
The Woodland Wild Things Forest School takes place at Fontmell Down, near Shaftesbury in Dorset.
It is a private woodland owned by the National Trust, and hired out exclusively for the use of schools and community groups for use as a Forest School.
The location is a broadleaved woodland set amongst archaeological features with stunning views. You will be surrounded by wildlife rich open downland – an ideal place to explore and let off steam.
Members of the team will meet you at the car park at the start of your session and then travel with you to the Forest School site. Please wrap up warm and bring lunch and drinks.
For more information about the history and context of the Fontmell Down Forest School location, please read the following document from the National Trust: 
Directions
From Shaftesbury head south on B3081 and follow signs to Melbury Abbas.
There is a car park on the right at the top of Spread Eagle Hill, just before the left turn to Compton Abbas Airfield.  

Our Forest School Leaders
All of our Forest School Leaders are experienced practitioners who have been delivering Forest School and outdoor education sessions for many years. 
All of our practitioners are members of the Forest School Association, and deliver sessions based on the criteria and principles set by the Forest School Association. This is the professional body and UK wide voice for Forest School, promoting best practice, cohesion and 'quality Forest School for all'.
Forest School is a child-centred inspirational learning process, that offers opportunities for holistic growth through regular sessions.
It is a long-term program that supports play, exploration and supported risk taking. It develops confidence and self-esteem through learner inspired, hands-on experiences in a natural setting.
Clive Whitbourn shares his Forest School journey:
"The Forest School at Fontmell Down is now open for bookings. It is the perfect venue for wild art, bug hunts, woodland games, fire-making, den building, outdoor cooking, and all sorts of other wild adventures. I hope thousands of children will experience memorable times amongst nature at Fontmell Down."
– Clive Whitbourn, Ranger for the North & West Dorset National Trust Team
Safe guarding and child protection 
Cranborne Chase National Landscape (AONB), hosted by Wiltshire Council, takes child protection and safeguarding very seriously.  Find out more about our policies and contacts here.
Funding for the Chase & Chalke Landscape Partnership Scheme comes from the National Lottery Heritage Fund. Thank-you to National Lottery players for making our work possible.