Flags have long been an important way for people to express their identity, and now we're bringing the idea to the Chase & Chalke Landscape Partnership, working with communities to create colourful, beautiful silk flags, led by artist Nicola Davis.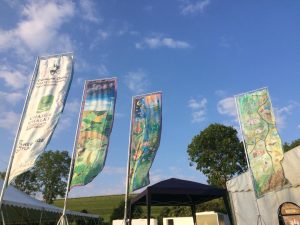 Nicola has been working with groups from within and neighbouring Cranborne Chase to create the first of the ten vibrant flags, each reflecting the identity of the group and their relation to the heritage, landscape, biodiversity and stories of Cranborne Chase.
We invite interested schools and community groups to get in contact if you want to be part of further flag creation, guided by Nicola through online or in-person workshops to contribute ideas for the design and then paint the silk flag.  We have opportunities for volunteers to help with this project, and if you are interested in being trained in the silk painting techniques as part of this project, do get in touch – it's free!
These flags will be used throughout the life of the Landscape Partnership Scheme at a range of activities and events, and beyond. They will be seen in their full glory at our Chase and Chalke events.
So, to sum up, we have three opportunities here:
groups wanting to create their own gorgeous flag;
volunteers, and;
trainee artists.
Follow the link to Nicola's video in the sidebar, and do get in touch!
Get Involved!
If you'd like to be involved , please contact Charlotte Moreton.