The Celebration in Silk project will engage schools and community groups in the production of vibrant silk flags that reflect the heritage, landscape, biodiversity, people and stories of Cranborne Chase. These flags will then be used throughout the life of the Chase & Chalke Landscape Partnership Scheme at a range of activities and events, and beyond the end of the scheme by schools and communities.
Silk Batik Flags
Flags have long been an important way for people to express their identity, and now through the Chase & Chalke Landscape Partnership we are bringing this concept to life by working with communities to create 10 colourful, beautiful silk flags, led by Wiltshire based artist Nicola Davis.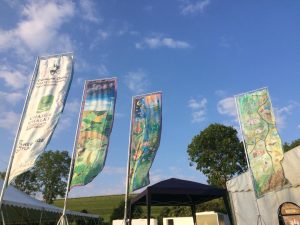 Nicola Davis 
The Chase & Chalke team are delighted to be working with Nicola Davis, an award winning entrepreneur and artist. Nicola specialises in creating bright and colourful silk artworks and leads workshops in which she works with others to produce silk paintings and scarves.
Nicola has been working with groups from within and around Cranborne Chase to create the vibrant flags, each reflecting the identity of the group involved and their relation to the heritage, landscape, biodiversity and stories of Cranborne Chase.
The Flags 
8 of the 10 silk flags have been created so far with community groups.
Flag 1
Cranborne Chase Community Flag
In response to the Covid 19 lockdowns, the Chase & Chalke team reached out to people across Cranborne Chase to learn what inspired them about the landscape. Using words and inspiration Nicola created our first flag.
Flag 2
Coombe Bissett Primary School
60 children from this school on the eastern limit of the Chase & Chalke area joined us to create 98 drawings for the design of their flag. Coombe Bissett is a small village primary school with 4 mixed age classes nestled gently within the rolling countryside, just outside of Salisbury in Wiltshire.
Flag 3
Chettle Village Community
Chettle village is a small village on the southern extent of the Chase & Chalke area in Dorset. This flag was designed and painted in a series of workshops hosted at the village hall, where the whole village and community came together to take part in the creation process.
Flag 4
1st Woodcuts Cubs
This flag was designed and painted by the Arctic Wolf Cub and Timber Wolf Cub packs from the 1st Woodcutts Scouts group based in Sixpenny Handley.
Flag 5
Seeds4Success
Seeds4Success is a youth work charity based in Mere, Wiltshire. The group provides opportunities for personal and social development for young people living in South West Wiltshire, such as practical skill development, education, nature conservation, and community development.
Flag 6
Abbey Primary School
70 children from the Abbey Primary School in Shaftesbury came together to design and create their flag during two workshop sessions.
Flag 7
Home Education Family Groups
The Chase & Chalke team invited families from the North Dorset and Salisbury Home Education groups to join us on Martin Down National Nature Reserve for a day of inspiration. 31 children and their families explored the landscape and joined us over two sessions to create drawings and paint their designs on the flag.
Flag 8
In Jolly Good Company
In Jolly Good Company are a dementia friendly group based in Wimborne St Giles in Dorset. The group created designs for their flag during a workshop with Nicola.
Opportunities for Involvement
We are looking for interested schools / groups / communities to get in contact if they would like to be part of this project and create a new silk flag. This process will be guided by Nicola Davis through online or in-person workshops.
Volunteers
We have opportunities for volunteers to help with the Celebration in Silk project – if you are interested in being trained in the silk painting techniques, please do get in touch.
We are looking for:
groups and communities wanting to create their own flag
volunteers to help with workshops
artists who would like to be trained in the creation of silk flags.
Follow the link to Nicola's video in the sidebar, and do get in touch!
How to get involved
If you'd like to be involved , please contact Charlotte Moreton