Martin Down National Nature Reserve is an extensive area of chalk grassland and scrub, nationally important for its rich archaeology and wealth of downland wildlife.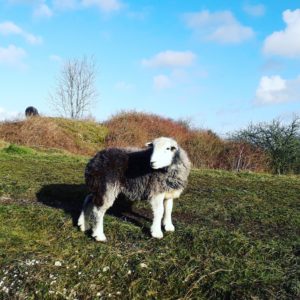 Currently grazed by sheep, the habitat and overall biodiversity would be improved by adding cattle to the mix. Cows are larger and heavier, they're less selective about what they eat and they're more efficient at breaking down scrub in their search for food and shelter.
But cattle have different needs to sheep, and Martin Down doesn't currently have all these resources, so new fencing, a corral and water supply have been created for graziers to bring their cows to the site.
Other, more natural water supplies, such as ponds, add far more than just drinking water for cattle. Increasingly rare turtle doves, which nest on or near Martin Down will travel great distances to visit favoured watering holes. While these are larger birds, they prefer shallow baths; streams, or even puddles, where bare, tapering edges allow plenty of space to approach the water. The traditional 'dew ponds' of the downs provided just this facility, but to find them in working order here now is almost as rare as the turtle dove itself. The intention is to construct a new pond on Martin Down and fence around it to prevent damage from stock trampling.
Access to the site from Martin village is via Sillens Lane. The plan is to erect a barrier and set of 'dragon's teeth' to clearly delineate parking areas within this small car park, and to protect the site from damage by illegal off-road driving. Ruts on the existing tracks will also be filled in to allow easier access for pedestrians, bikes and wheelchair users.
  This project is being delivered by our partners Natural England.
Get involved
We're looking for volunteers to help us with practical conservation management, like scrub clearing, surveying or monitoring – such as conducting butterfly surveys or observing what the cattle are eating. There are opportunities to come to guided walks, to take part in stargazing events, or simply to visit this extraordinary and precious landscape, and find out for yourself why it's so special.
To get involved please contact our Ranger and Volunteer Co-ordinator Roland Hughes.