Memories Captured is an oral history project which invites local people to tell their stories – to be recorded and entered into the archives of the Dorset History Centre.
The Memories Captured Project Aims
Our aim is to train as many volunteers as possible from across the area, including lots of young people, to capture 40 individual stories of rich rural life so they can be shared and preserved.
These stories will also inform many other Chase & Chalke projects, and be compiled as a publication to celebrate the area's rich landscape and traditions.
By capturing these voices and stories we are:
Providing content and inspiration for the development of other projects within the Chase & Chalke Scheme's Cultural Landscape projects.
Promoting and raising awareness of the rich rural life, agricultural and farming history of the area to thousands of people though sharing the recordings online.
Providing a legacy for current and future generations to get an insight into peoples lives and experiences of living and working in this wonderful landscape.
Volunteers are helping us to uncover and gather stories and living memories. From those who have experienced the Chase & Chalke area, capturing stories of how the land was managed, how wildlife patterns have changed, what craftsmanship and skills were used, such as charcoal making, coppicing, hurdle making and water-meadow management.
All volunteers will receive free training from industry experts in Oral History, Archiving, and Historical Research to provide them with the necessary skills to embark on this exciting project.
---
Get Involved with Memories Captured
---
Participate in Capturing History
If you have lived or worked in the Chase & Chalke area of Cranborne Chase and would like to share your story with the project, offer insights or feedback, please email charlottemoreton@cranbornechase.org.uk.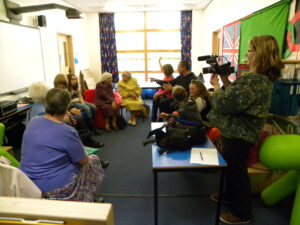 If you are interested in
becoming an interviewer
to help us record and preserve peoples stories, we will offer you free training by professionals and provide audio recording equipment and support.
If you would like to volunteer and get involved in this fascinating project, pop over to our volunteering page to find out more. You can also contact Charlotte Moreton, our Heritage and Community Engagement Officer charlottemoreton@cranbornechase.org.uk
For more information on the Chase & Chalke Landscape Partnership and our other projects, click here.
---
---
Find out more by viewing our Project Summary here:
---
The Chase & Chalke Volunteer Hub
Click below to register on our volunteer and training hub!

The Chase & Chalke team offer free training opportunities to our volunteers. Register today to view upcoming activities to get involved with the 'A Crystal Clear Ebble' project, as well as free training & more.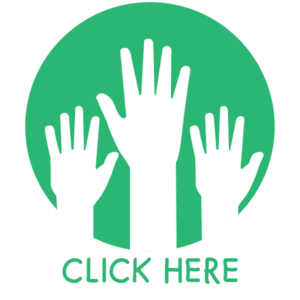 ---
Subscribe to Our Newsletter for Project Updates
The Chase & Chalke team send out monthly updates on our projects and opportunities. This is a great way to ensure you'll receive our latest news and opportunities.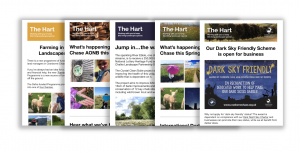 Register to stay up to date with the scheme.
---