Time Travellers of Cranborne Chase is an exciting new AR (augmented reality) app to help you delve into the secrets of the past, live now!
The Chase & Chalke Landscape Partnership area is full of fascinating history, and our exciting, free new AR app will guide you through some of these amazing stories and intriguing historic sites from the past.
The new Time Traveller app allows you to meet Thomas Hardy in Shaftesbury, rogue-ish 18th Century smuggler Isaac Gulliver in the churchyard at Sixpenny Handley and a Roman noblewoman in Wimborne Minster.
General Pitt Rivers, considered by many to be the father of modern archaeology, introduces you to his estate and to his archaeological work on The Chase, and John Bastard, architect and builder, explains Blandford Forum's dramatic history and how it rose again from the flames.
See these fascinating characters spring to life right before you and learn about their lives here on Cranborne Chase.
Settlements and earthworks from long ago are recreated, revealing how they would have looked and how people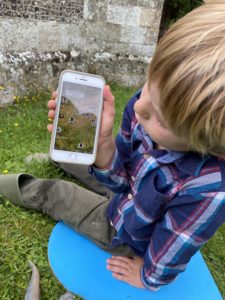 lived . Discover some of the ghostly folklore associated with the region, uncover curious artefacts and snippets of history through the app's absorbing information points, and collect medals as you visit the various sites.
Join our two mole archaeologists, Archie and Olivia, as they guide your around the sites. Packed with history nuggets, fun and informative for all ages, we can't wait to help you explore this amazingly rich area!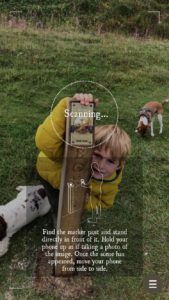 The app is now available to download for free from the App store and the Google Play store – just search Cranborne Chase AR. This project was generously funded by Dorset LEADER and other partners.
Download this fun colouring-in sheet for kids, featuring Archie, Olli and some of the characters from the app!
This project was generously funded by: