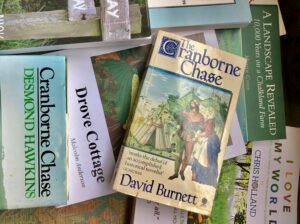 So many poets and writers are inspired by their surroundings to weave words into bejewelled tapestries that transport us and help us further a connection to our local landscape and heritage. 
Thomas Hardy's 'This is the Weather the Cuckoo Likes' and Thomas Gray's 'Elegy Written in a Country Churchyard' are long-familiar to many of us as serene reflections, while Julia Donaldson stirs us to a different take on our walk in the woods with 'The Gruffalo', John Betjeman warns us to drive with care on the A30, and Carol Ann Duffy's 'The White Horses' revels in the history and liveliness of the chalk figures of our downland landscapes.
The Words in the Landscape Project
The Words in the Landscape project aims to bring together readers, writers, poets and tellers of tales to celebrate the written and spoken word, and to connect people to the landscape.
The project aims to engage hundreds of local people of all ages in a variety of activities, from creative writing workshops, commissioned work, community outreach to live events.
The project will culminate in the 'Festival of Words' – a celebration of the work that emerges from the project. 
Community Poet Residency
Our Community Poet Residency is now live!
We are seeking applications from poets and writers with experience of working with communities and schools. This exciting residency aims to deliver workshops to newly inspire adults and children to write about their connection to Cranborne Chase landscapes, history and culture.
There is a budget of £3,750 (excluding VAT) to cover all fees and expenses – more detailed information about the position is in our published brief for the residency.
Applications must be received by 5pm on Monday, 28th March.
If this sound like your thing, you can download the full brief here: Words in the Landscape Community Poet Brief.
Poetry Boxes
Starting in 2021, we introduced our Poetry Boxes,
and sprinkled them throughout the Chase and Chalke area.
The team would like to say a big thank you to all those who contributed the 60-odd poems and sketches over the course of summer 2021.
We are hoping to add to this collection of works and artworks over the coming months from Easter to Autumn 2022, and will let you know where we've put the boxes with their paper and pencils. The Poetry Boxes have to be stored indoors during the winter months due to weather conditions.
Over summer 2021, the team chose to install the Poetry Boxes in the locations of Win Green, Fontmell Down, Martin Down, Coombe Bissett Down and Chettle village – with some sites proving more popular with writers than others!
We encourage you to breathe deeply and inhale your inspiration from the landscape around you.
Words, prose, poems, songs and sketches are all welcome. These treasures will be regularly collected from the boxes and will be compiled into an online resource available on this website through the length of the Chase & Chalke project and beyond. The most notable offerings will be collected and made into a book.
To learn more about the project, or to get involved, contact Charlottemoreton@cranbornechase.org.uk.
---
Poetry Resources and Inspiration
A few personal arch-favourites are listed below; perhaps our current enforced slower pace of life gives room to delve into a few such riches, and to "Wander lonely as a cloud" (thanks, Wordsworth!). If you have more suggestions, let us know!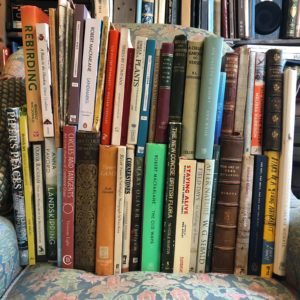 Robert MacFarlane – many acutely observed books of lyrical prose about British wildlife, landscapes and history.  And don't miss his Lost Words, created with the artist Jackie Morris, treasuring the words of our natural world that are slipping out of childrens' dictionaries – a delight for all ages!
Anna Pavord – Landskipping – about our human creative response to the landscape from our earliest known history to modern times, from a west Dorset writer.
Mary Oliver – poetry and prose – nature as a source of joy and wellbeing (USA). Try Why I Wake Early for an uplifting morning mantra to say to your cheerful dog!
Field Days – a superb anthology compiled  by the Dorset-based environmental charity, Common Ground.  The Bright Field by R.S.Thomas will strike a chord with any lover of the countryside and walking.
A Shepherd's Life – W H Hudson's wonderful and slightly eccentric glimpse into the lives of shepherds on Cranborne Chase in the early years of the twentieth century.
Nature Cure – The celebrated naturalist and writer, Richard Mabey, on his recovery from depression through a reconnection with nature.
Tom Cox – Funny but profound reflections on landscape and nature pepper his writing. Try 21st Century Yokel or Ring the Hill.
Edward Thomas – the great poet, whose life was tragically cut short at the Battle of Arras, brilliantly summons up English landscapes, in poetry and prose.
Wiltshire – Edith Olivier, resident of Wilton, writer, patron and leading light of the Wiltshire artistic scene, published this charming survey of the history and culture of her home county.