by Charlotte Moreton
8th December 2020
Our Chase and Chalke Advent Calendar comes out daily on Instagram – look for @chaseandchalke if you would like so see it daily – here's a collection of the first few….
Chase and Chalke Advent Calendar, Day 1.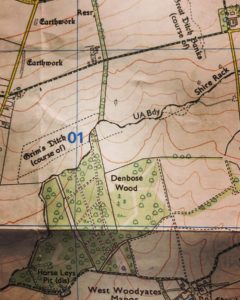 This 01 Easting on the 118 OS Explorer map marks a point where Grim's Ditch coincides with the Shire Rack.  Grim's Ditches crop up in several places running across chalk downland in southern England as a ditch-bank combination.  It likely marked a boundary in the Bronze or Iron Age, and much can still be seen today due to the historic protection of this landscape.  The Shire Rack runs along the Wiltshire-Dorset boundary, wiggling across Cranborne Chase, here with straighter rights of way to the north and south running in roughly the same direction.
It's fun to ponder about these boundaries and what they were separating.  Look at the different road surface either side of the county boundary by Pribdean Woods!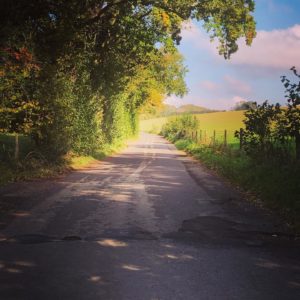 Chase and Chalke Advent Calendar, Day 2.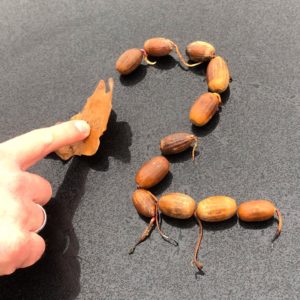 These sprouting acorns, and many others, may grow up to play their part in the local landscape and biodiversity.
The oak plays an important part in the Cranborne Chase landscape, whether like these beautiful mature parkland trees near our office, standards in hedges or as part of a woodland, or indeed, hedge.
Oaks can live for 500 years, or double that in exceptional circumstances, providing habitat for more other species than any other tree.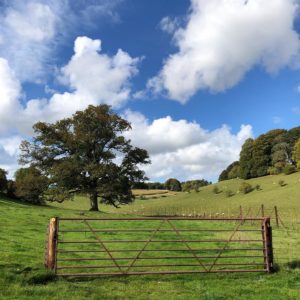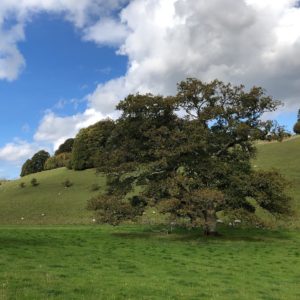 We can see in our veteran trees that they have roughly two curved lengths for every straight length, used by builders over the ages.  Not something seen as much in more recent imported saplings which are selected to grow straight and be machined into straight lengths, "treated more like plastic" (Oliver Rackham).
Chase and Chalke Advent Calendar, Day 3.
We arrive at Bockerley Junction, and find plenty of parking space (and a tea van!) in the layby on the A354 near Martin Down.
Here Bockerley Ditch is crossed by the very visible Roman Ackling Dyke as well as the ancient Shire Rack, which runs along the county boundary.
The access from the car park has recently been improved so that Trampers (cross-country mobility scooters) can get in more easily, and thence to the network of tracks (mostly less challenging than this one, but we had to have a go!).  Watch out for our Walking Festival next May.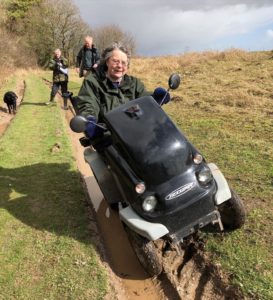 This is a lovely sheltered site to explore with woodland glades, scrub and woodland – perfect for spotting flowers, butterflies, deer, and so many birds, currently feasting on berries.
Chase and Chalke Advent Calendar, Day 4.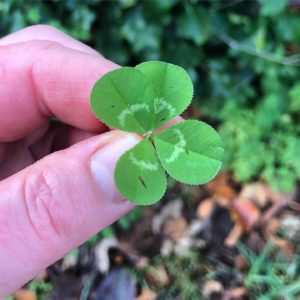 The four leaf clover can be found in any patch of clover, which thrives where grass is grazed and the tougher grasses don't get a chance to take over. Clover generally has three strands of DNA. We have two, and the four-leaf clover has, you guessed it – four!  Clover, and other legumes or pea family, makes the grazing richer for the grazing animals and are an important and pretty part of any meadow.  As only one in about 5,000 leaves will be in clusters of four, you'll definitely be lucky to find one!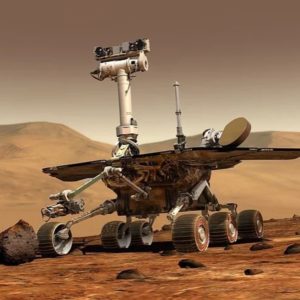 Some astronomical 4-facts: it takes 4 hours for light to get from the Sun to planet Neptune.
And four rovers have landed on Mars.  Mars is very prominent, high in the southern sky, this month, especially clear from the Cranborne Chase International Dark Skies Reserve – have you seen its reddish glow?
Chase and Chalke Advent Calendar, Day 5.
05 on the map brings us to the vicinity of a farm near Martin.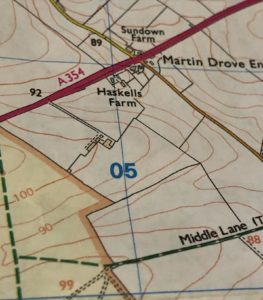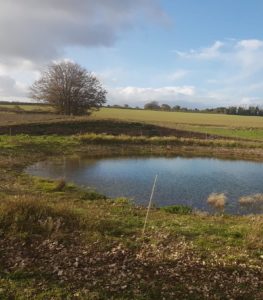 A dew pond built with help from Cranborne Chase AONB 18 months ago is already showing wildlife benefits.  The spoil was turned into a butterfly bank and planted with kidney vetch grown by a volunteer.  This is the food plant of the small blue butterfly.
Also spotted at the site this summer were grey partridge, corn bunting, little egret, hare and turtle dove. The latter features in this lovely silk painting.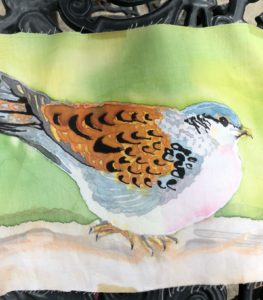 Watch this space – and press here – for details of our upcoming Silk Flags project!
Chase and Chalke Advent Calendar, Day 6.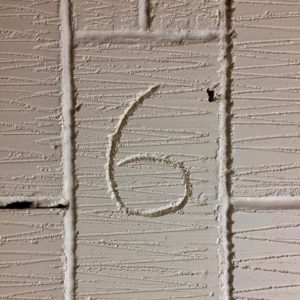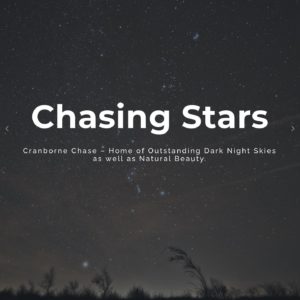 Orion is prominent in the evening southern skies at this time of year.  Along with Sirius, the Dog Star following left along his belt.
Win Green, 277m above sea level, is the highest point in Cranborne Chase and a fabulous spot for star gazing.  It is easy to spot with the eye-catching stand of beech trees inside the Bronze Age bowl barrow at the summit.  The National Trust site is an SSSI.
On a clear day views stretch to the Isle of Wight and Glastonbury Tor.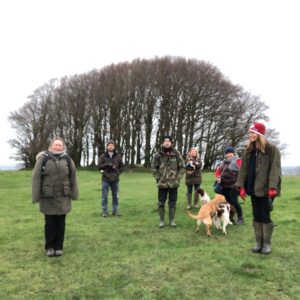 These six stars are the reshuffled Chase and Chalke Landscape Partnership Team, enjoying a socially distanced team meeting in the cold clear East wild, along with their dogs.
Chase and Chalke Advent Calendar, Day 7.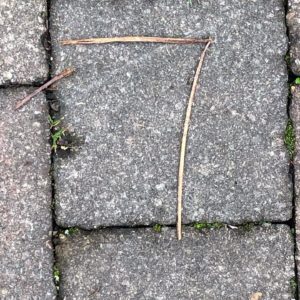 7s galore today, with pine needles on pavements, steep lanes in the Chase and Chalke, and hilltop trees graciously gesturing us along through the fog.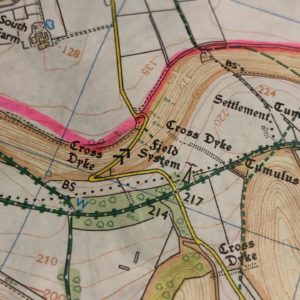 Icy rime on branches and noses (so it feels), silky puddles and a satisfying "By-Way" earworm. Or is it "My Way"?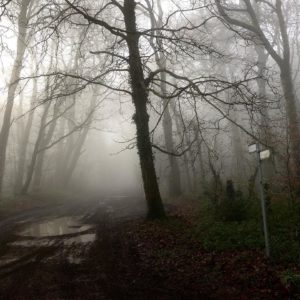 Chase and Chalke Advent Calendar, Day 8
It takes eight minutes for light to get here from the Sun. Actually 8.33, but very little is exact in astronomy.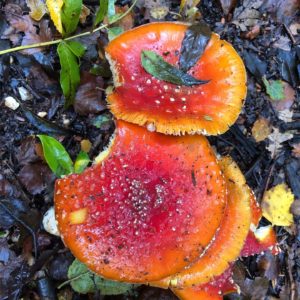 On the subject of eight, somebody ate this 8, a fly agaric.  It is is our archetypal deadly poisonous toadstool, definitely not for human consumption, whatever Lewis Carroll said.  Its hallucinogenic affects are thought to have inspired Alice in Wonderland.  In Mediaeval times it was mixed with milk and used to poison flies, hence the name.  It has a curious appeal for reindeer, which are attracted to shamanic rituals where it is used in Lapland.  It is very poisonous, so please don't try this at home – Father Christmas has it in hand, hallucinations of flying reindeer and all!