by Charlotte Moreton
17th December 2020
Chase and Chalke Advent Calendar, Day 9.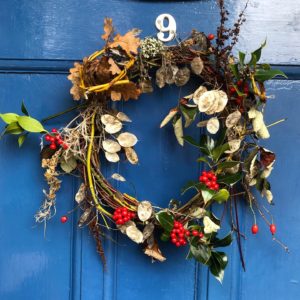 It takes nine years )actually 8.66) for light to get here from the brightest star, Sirius, which cropped up on Day 6.
The thrushes that visit my garden holly trees are on cloud nine in their festive feasting hall.  I see them gulp down nine berries then fly over the house to grab nine mistletoe berries.  This happens so often that it has become a home-proven theory of nine, even if not actual science!  Right now, there are redwings and blackbirds, and the fieldfares, mistle thrush (loves the mistletoe!), and song thrush also visit.  The latter is most evident when he shouts repeated musical snippets from the highest branches.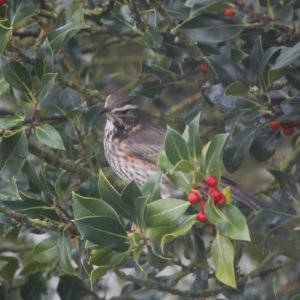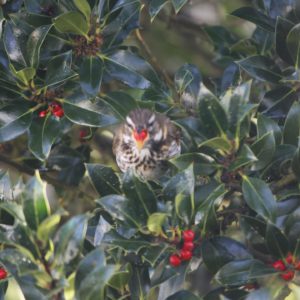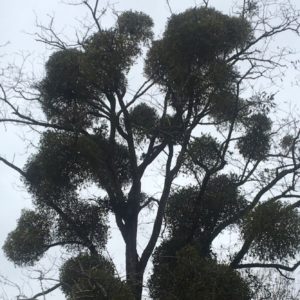 Chase and Chalke Advent Calendar, Day 10.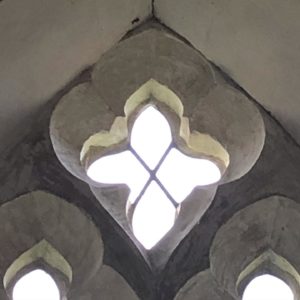 The length of a Jovian (Jupiter) day is ten hours.  That's X in Roman-speak.
Cranborne Chase contains some significant Roman roads and sites, although this X is actually the leading in a tiny church window (see our 13th Day Advent post).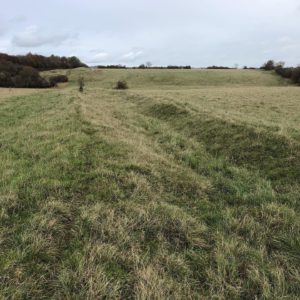 Ackling Dyke, built around AD90, was a busy Roman highway for about 400 years, running between the much older hill forts of Old Sarum and Bradbury Rings.  This section is clearly visible today near Martin Down, showing that it was raised above the surrounding fields, perhaps to impress and intimate the local population.
At nearby Martin Down you can follow our Cranborne Chase Time Travellers AR app to see how Bockerley Ditch may have looked and sounded before the Romans took it over.  We suggest you download the free app before you leave your WiFi.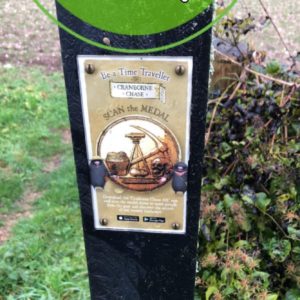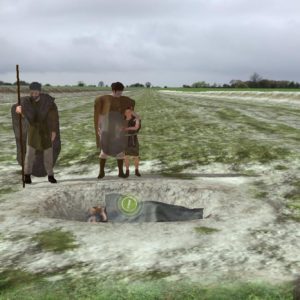 Next June we'll be joining Chalke Valley History Festival with a Roman Rally – re-enactments and demonstrations of Roman crafts and activities, and how they fitted alongside the local Iron Age Durotrige population.  We stand by to be impressed!
Chase and Chalke Advent Calendar, Day 11.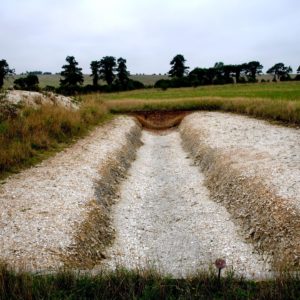 11,000 people live in the Chase and Chalke Landscape Partnership area, with a further 60,000 in the surrounding market towns and nearly half a million within a 30 minute drive.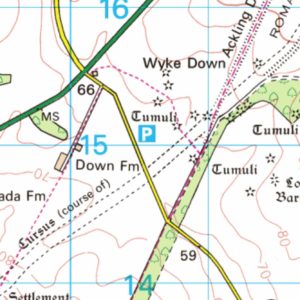 Looking at the map, we have networks of parallel lines showing us many rights of way ancient and modern, from footpaths and bridleways to permissive paths and sections of prehistoric features.  The Dorset Cursus (the above image of a reconstructed section is by Jeremy Mulcaire) at 11km long is the largest known Neolithic cursus in the country, longer even than those at Stonehenge and Avebury.  With such intriguing names as Shire Rack, Ox Drove, Ackling Dyke, Bockerley Dyke, Hardy Way, Wessex Ridgeway, Park Pale, and more, there's endless exploring and pondering to be done.
Including why the Roman chicken crossed the road.
(She was afraid someone would Caesar!)
The Explore page of the Cranborne Chase AONB website leads us along many enticing trails; we are improving more, and yet more feature in our popular ChalkEscape Walking Festivals.
Chase and Chalke Advent Calendar, Day 12.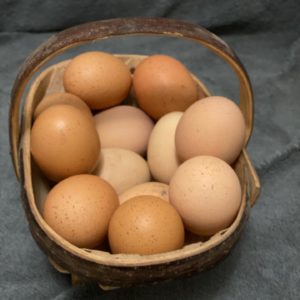 Eleven, twelve, dig and delve.  The minute chickens come out of their egg (which came first, in my view, but that is open to debate) they know how – peck, scrape, shuffle, shuffle, peck – even if hatched by a broody duck.
A dozen eggs from a dozen chickens.  Eggs were traditionally sold in dozens so you could buy twelve at a penny each, and spend a shilling.  No change required.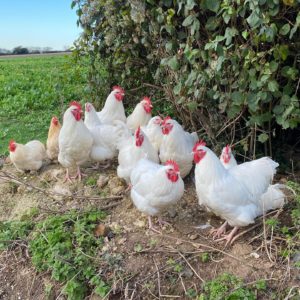 These beauties, owned by a Chase and Chalke colleague, live in the Chase and Chalke area, and like all chickens nationwide, from 14th December will have to be contained to reduce the spread of bird flu.  We can tell them a thing or two about lockdown.   My own few ladies should be boning up on their Zoom skills, but I fear they'll be more interested in making chicken stir-fry in their play-wok, practicing their hilarious moon walk.
Twelve humans have walked on the surface of the moon.  There are twelve humans in the AONB and Chase and Chalke combined team.
Chase and Chalke Advent Calendar, Day 13.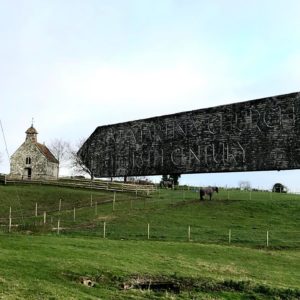 The 13th Century St Martin's Church at Fifield Bavant is a tiny gem, perched on its own knoll above the Ebble, here also tiny.  We had a glimpse of its charming windows on Day 10.  It is still in use and has a colourful collection of hand-stitched kneelers.
Many churches were built in the Late Medieval period (AD 1066 – AD 1485), following the conquest of England by the Normans.  Salisbury Cathedral, too, celebrates its 800th anniversary this year.  We still see the manor farm and church forming the nucleus of many local villages today.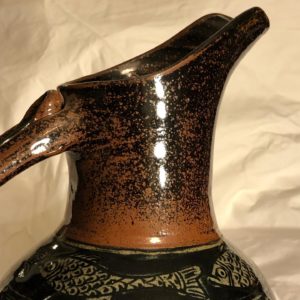 Often the converted barns house rural trades and crafts, such as potter Jennie Gilbert in one of the workshops between this church and its manor.
Pottery in Cranborne Chase was historically (14th Century to about the 1980s) based in the clay area between Rockborne, Fordingbridge and Wimborne – the Verwood Potters' YouTube video gives a fun insight!
Another celebrated potter, Jonathan Garratt, digs clay locally and refines it to a useable consistency over two years before making his traditionally inspired pots with this "Rolls Royce of clays".
A man went to buy 12 bees from the beekeeper.  He looked in the box, and said, "There are 13 bees here – you've given me one extra!"
"That's a freebie." came the reply…🐝
Chase and Chalke Advent Calendar, Day 14.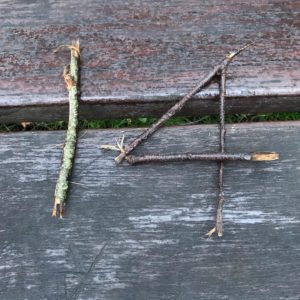 Carbon 14 analysis was used to date the chamber at Wor Barrow Neolithic long barrow.  It was built between 3685 and 3650 BC, and in use for about 4 generations.  Over 14×14 generations ago.
Neptune has 14 moons.
This is building up to the biggest and proudest of 14s, which may have been mentioned before….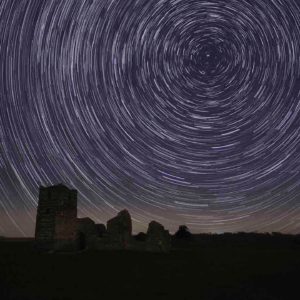 Cranborne Chase International Dark Skies Reserve is only the 14th such reserve in the world!  It took seven years' hard work to make it happen.  Cranborne Chase AONB has its own Dark Skies Officer, and one of the Chase and Chalke projects, Starry Starry Nights helps further the cause.
This amazing photo was taken by Paul Howell at Knowlton.
Chase and Chalke Advent Calendar, Day 15.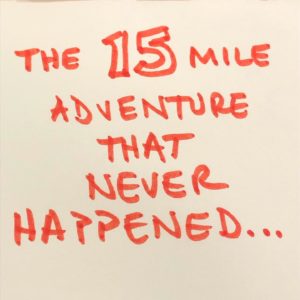 15 miles of railway track were proposed for the Chalke Valley Railway to run from Salisbury to Berwick St John via Coombe Bissett in 1875.  The plan was to use a light engine for goods traffic, travelling at about six miles per hour, and safer, horse-drawn carriages for passengers.  There was another option of bigger heavier engines travelling at 25 mph.  The landowners, however, were not persuaded that "everyone doing it" meant that this was a good plan and the Chase and Chalke remained train-free.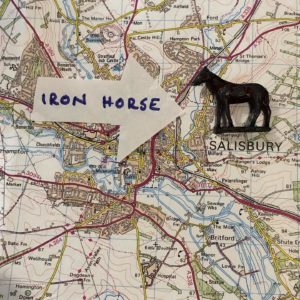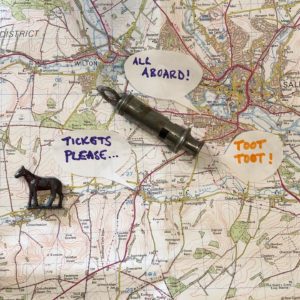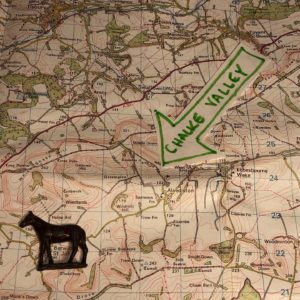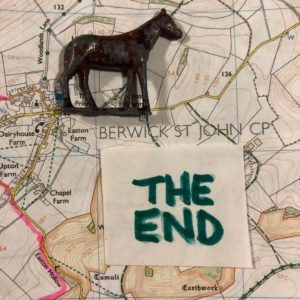 Chase and Chalke Advent Calendar, Day 16.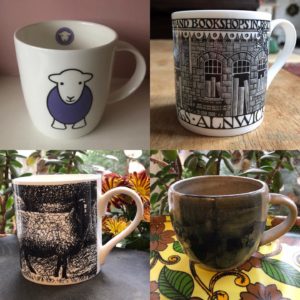 16th December 1773 saw the Boston Tea Party.  342 chests of tea were flung into Boston Harbour as a protest against a huge company not paying fair taxes.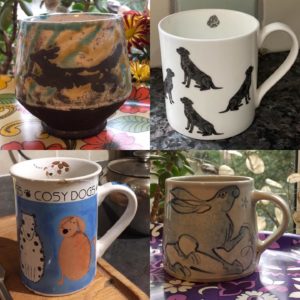 247 years later in Cranborne Chase, tea is being sipped at Zoom meetings, not dropped in the drink.  These days we may be concerned about whether our tea is sustainable, and whether the teabag is a nice biodegradable one or strangely indestructible, and most importantly, how it tastes so much better in our favourite mug.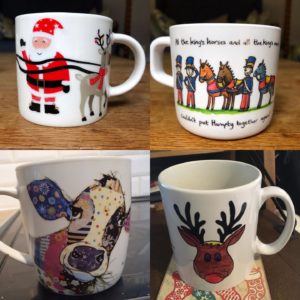 Here are our team's mugshots, some made by local potters.