by Roland Hughes
23rd July 2020
Spotted whilst cycling from Ashmore to Compton Abbas via Stubhampton
Exploring the highways and byways to ensure they are easily recognised and passable by all, I'm putting up waymark discs where necessary and reporting other problems to the appropriate County's Rights of Way team (we cover parts of Dorset, Wiltshire and Hampshire).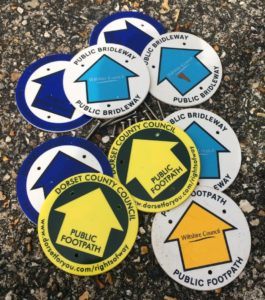 Proposals for circular routes, walking and riding, are part of our Ancient Ways project.  To my mind for a walk or ride to 'work' it has to contain certain elements, other than just a passable route on the ground – a challenge, a spectacular view, somewhere to sit and absorb your surroundings, a pub or café to aim for or finish at, or even some sort of theme running through the places visited for instance.  Trying to tie in some or all of these with somewhere to park or public transport is not always straightforward.
There are also the unexpected elements and the changing seasons with their associated wildlife – orchids along an old trackway, skylarks erupting from the ground as you walk past or some tigers in the woods.
This is a working landscape too – fields are ploughed, seeds are sown, crops are harvested – some bigger than others.  The big machines at work in the woodlands are harvesting a crop in much the same way as the tractors in the arable fields – just check the operators have seen you before you pass on some of the tracks.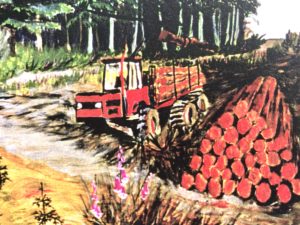 Back to the tigers.  Heading northwards in Fontmell Woods, having squeezed past the forwarder and the log stack at Washer's Pit, up a sheltered valley with open downland to my right and mixed woodland to the left, I came to a junction of ways.  The bridleway carried on to the right and a forest track to the left, a clearing with lots of bramble and these intense crimson flashes of colour, constantly on the move above the bushes.  I counted seven and in the time I watched them they did not pause in their tumbling, fluttering flight.  Red furry bodies and matching underwings; black and white – sort of barred – forewings.  I waited in vain for them to settle on any of the flowers in the clearing and did my best to record their flight.  Then suddenly, as if hearing some prearranged signal, they were gone, not to return although I waited for a short while.
Back home to reference books and the internet and scarlet tiger moth (Callimorpha dominula) seemed to fit the bill. There were some 'nice' sections to the ride and there was definitely a physical challenge but the tigers were the stars of the day for me.
Watch Roland's short video of tiger moths:
Editor's Chalke Chippings-in
Although not the lark Roland tells us about, maybe you have quarter of an hour to let Vaughn William's sublime The Lark Ascending wash through your ears….  This version is conducted by Sir Neville Mariner and accompanied by images of the beautiful Peak District (full credits and more interesting titbits in the link).
And here's a Tyger we all remember.  An inspiration, perhaps for something wordy-arty to show us for our Words in the Landscape project.  We would love you to email us your compositions…!